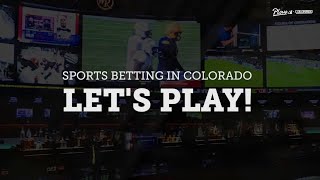 The new year is a time for reflection.
It often fills us with unbridled hope for what is to come.
That is especially true after a turbulent 2020, which has many of us yearning for brighter days ahead.
This past year was incredibly difficult for many of us, but Colorado sports betting offered a pleasant diversion. And much like the year, the "first year" of sports betting was filled with unique twists and turns.
We already went over the greatest hits for 2020, so there's no need to replay them here.
Instead, PlayColorado turns to experts and operators as we look back on, and look forward to, the Colorado sports betting market.
Here's the 2020 roundtable.
Looking back
"While 2020 has been a challenging year, we're proud of our staff for offering a source of safe fun and entertainment to our customers who most certainly needed a diversion from daily life. The FanDuel Sportsbook currently holds a 43% online market share nationally and Colorado remains a big reason for our tremendous growth success. FanDuel operates online in eight states with average bet size, bet frequency and customer retention rates exceeding industry expectations.

Colorado customers were able to experience America's first-ever 'branded sportsbook bet' through our partnership with the Denver Broncos and Bud Light. Additionally, FanDuel innovations like Bad Beat Relief and two Spread the Love campaigns positively impacted our Colorado based customers in 2020."
Johnny Avello, the DraftKings sportsbook director of operations
"Absolutely remarkable. It's been a pleasure to service and offer our product to the state of Colorado. And we couldn't be happier with our partners at the Mardi Gras and the response to our mobile app from Colorado sports fans."
Claim Your $1,200 Bonus at DraftKings Sportsbook

Up to $1,200 BONUS
New User Bonus. T&Cs Apply
DraftKings Promo: Bet $5 Get $150
PLUS $50 Bonus Bet On Deposit

PLUS up to $1,000 Deposit Bonus
PLUS a Daily No Sweat Same Game Parlay
Gambling Problem? Call 1-800-GAMBLER 

To Claim: Click Play Now
Dan Hartman, director of the Colorado Division of Gaming
"I believe the first year went very well. Our first goal was to meet the expectations of the legislation for a May 1 start date. Even with having casinos closed and most major sports shut down, we were able to meet that May launch date. We started the year with very conservative estimates and expectations of sports betting wagering levels. With the pandemic and its challenges, we surpassed those initial expectations.

Colorado has emerged as a great sports betting market, and we should remain that way. We really don't have large population centers outside the state's borders that will impact instate wagering if those states legalize sports betting."
Looking forward
Avello
"We will continue to offer an abundance of content, so be on the lookout for some fresh, new betting opportunities as well as contests with life-changing prizes up for grabs."
Hartman
"As the world returns to what we hope will be normal, and sports schedules return to a more traditional program, I look forward to the continued growth of the market. We will be adding new operators next year. It will continue to provide a competitive market for operators and their products and a market where that competition truly benefits the Colorado sports betting customer.

"Because of the favorable legislation that provides direction for the Colorado sports betting program, we hope to continue to be a model for new programs as sports betting expands across the United States. I am genuinely optimistic that Colorado will continue to grow and remain one of the best sports betting markets in the nation."
The last seven months have been a memorable, wild ride.
What will the new year bring to a market that still has mile-high expectations?
As we turn the calendar to 2021, the sports betting market in Colorado is only getting started.
Happy New Year, Colorado punters.