Responsible Gambling in Colorado
Colorado hosts a thriving casino and sports betting industry, along with lottery, and daily fantasy sports contests.
For the majority to be able to enjoy these forms of gambling, there must be protection for problem gamblers.
People who have issues controlling their gambling behavior are able to self-exclude from all 33 Colorado casinos, which involves a system overseen by the Colorado Department of Gaming.
With online gambling available in the Centennial State, measures to protect gamblers are expanded. Online sportsbooks offer a suite of tools that range from the ability to set limits on wagers and deposits to permanent self-exclusion.
This page provides in-depth coverage of responsible gambling options for Colorado players.
We detail the signs to look out for to know whether you or a loved one has a gambling issue. After that, we examine the role of ProblemGamblingColorado.org and national helplines. The state of Colorado recently stepped up with a responsible gaming grant to directly address the problem.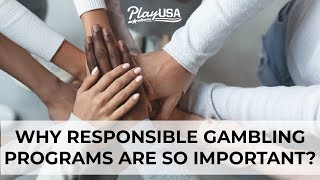 Colorado: What is problem gambling?
Problem gambling can manifest itself in several ways.
Symptoms differ from the temporary disappointment of losing a big bet, which we all experience at some point.
Problem gambling will affect other areas of life, including finances and work/family commitments. Other signs include more subtle things like thinking about gambling too often or playing for longer than normal periods.
Responsible gamblers never play with money that they cannot afford to lose. If you do gamble with money that should be spent elsewhere, then seeking help right away is the only viable step.
Problem gambling is initially diagnosed through self-assessment questions.
These questions can also help to identify gambling issues among friends or family members. If you answer "yes" or otherwise identify with any of the questions below, you should speak to a treatment professional:
Have you ever gambled to escape from stress or worry?
Have you ever gambled for more extended periods than you planned?
Did you ever borrow money for gambling?
Have you ever been reluctant to use your "gambling bankroll" for other uses?
Have you ever gambled until you are entirely out of money?
Have you ever sold possessions to continue gambling?
Do other people comment that you spend too much time gambling?
Does your gambling ever leave you feeling irritable?
Have you ever chased your losses while gambling and betting more to win back money?
Have you ever resorted to gambling after an argument, or as a result of other frustrations?
You will find similar questions listed on problem gambling and treatment websites.
If you have more than one "yes" answer, then speaking to a trained representative on the telephone is your next step. They will work with you to determine whether you have a problem and advise you on the next steps.
Seek help for problem gambling behavior in Colorado
Problem Gambling Colorado provides a 24-hour confidential helpline for residents.
It is the local affiliate of the National Council on Problem Gambling, and its mission is to restore and maintain the quality of life of individuals and communities affected by problem gambling.
The Problem Gambling Colorado site is available in English and Spanish.
Here is how to reach the service:
The National Council on Problem Gambling and Gambler's Anonymous are also national organizations that can help or discuss issues.
Colorado casinos: Self-exclusion process
There are 33 casinos in Black Hawk, Cripple Creek and Central City. If you wish, it is possible to exclude yourself from all of them by filling out a basic form.
You can choose how long you want to exclude from all Colorado casinos. The minimum is three years, with the maximum lifetime exclusion available. When your self-exclusion time expires, you'll need to send in a second form to be reinstated.
If you self-exclude, you will be removed from all mailing lists and casino loyalty programs. It will also prevent you from entering casinos, so if you do enter a casino, it will be considered trespassing.
This process is only valid at CO casinos.
You can find the PDF form, along with where to send it when completed, here.
Responsible gambling and the Colorado Lottery
You'll find a list of questions similar to the one above on the "Play Responsibly" page on the Colorado Lottery site. It also includes some of the psychological signs that your play is becoming a problem.
There isn't any practical way to self-exclude from thousands of retail lottery outlets; instead, there is a list of resources on the left of the page that covers helplines, websites and the Colorado Division of Gaming.
Above these is a simple and effective header: Help is available, don't wait.
Responsible gambling and Colorado sportsbooks
Retail sportsbooks in Colorado will be inside existing casinos.
So, this means that self-excluding from them will follow the same process of filing a form that already exists. If you are already self-excluded from casinos, the retail sportsbooks will be out of bounds.
Mobile sports betting apps and websites also have tools for self-exclusion, which is just one of several options you'll have available to manage your gambling.
You will also find information pages, which will include self-assessment questionnaires and links to help organizations.
Online sportsbooks will have the following tools available for anyone that experiences issues with their betting:
Deposit Limits: This allows you to cap the amount you deposit for different times. Setting up a monthly limit for your recreational betting spend could prevent you from chasing losses after an unexpected loss.
Bet Limits: This sets a cap on the amount you can wager. Depending on the sportsbook, it can be a daily, weekly or monthly limit. It can also be the max amount to wager on a single slip.
Timeout: For short breaks from betting, you can take a timeout, which gives you the ability to stop gambling for 24 hours or more.
Self-Exclusion: This is the most drastic measure, as there is no way to reverse a self-exclusion until the time limit you set expires. You can self-exclude for a year or more. Most books will require that you request to be reinstated.
With each casino able to have a mobile betting partner, there will always be the temptation to switch brands to continue betting. If you have thoughts like this, then contact Problem Gambling Colorado to seek help.
Horse race bets, sweepstakes casinos and DFS in Colorado
Problem gambling is not limited to sports betting, casinos and lottery games in the Centennial State; other legal forms of gambling also have to protect players.
Daily fantasy sports (DFS) sites, including FanDuel and DraftKings, have detailed resource pages.
Tools include deposit limits and contest entry limits to protect anyone spending too long on the sites. At FanDuel, you can opt into an email alert, which will show you when you have entered too many contests in a given period.
As an example of the websites offering horse race bets in Colorado via pari-mutuel pools, TwinSpires has a detailed "Wager Responsibly" page, which includes advice on what "good" wagering looks like, a self-assessment questions list and a phone number to get assistance (1-800-GAMBLER).
Social casinos, which offer online slots and casino games in Colorado via their sweepstakes casino model, also have provisions for responsible gambling.
There are gaming management tools available, including the ability to take a timeout from the games. You'll find session reminders, a self-assessment question list and links to both internal experts (customer service) and Computer Gambling Addicts Anonymous (CGAA).
Wrapping up: Problem gambling in Colorado
Problem gambling is taken seriously in Colorado.
There is already an extensive process in place for live casinos, which includes the ability to self-exclude from them by filling a simple form with the Colorado Division of Gaming.
With the rollout of mobile sports betting, additional measures are at hand to help those who develop gambling problems.
These include tools to manage betting activity, keeping this within recreational limits. For bettors unable to work with temporary timeouts, bet and deposit limits, they can also self-exclude from online betting apps.
While most people can enjoy gambling recreationally without any problems, it is essential to assist those who can't. This includes education for students, especially student-athletes and coaches. By protecting these individuals, gambling is made safe and enjoyable for everyone.