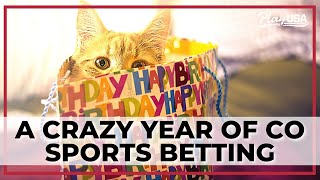 The first year of sports betting in Colorado is in the books. And was it ever unique.
In fact, Colorado's first year was perhaps the most unique in the short history of sports betting in the U.S. The state launched amidst a global pandemic while no major sports were being played. Future states that launch a sports betting market will have a tough time topping that.
Yet despite the hiccups and turmoil, there were memorable moments as well.
There was the surprising dominance of table tennis betting that has come to define this young market. But perhaps the biggest takeaway was the over $2 billion in handle that Coloradans wagered on sports. And technically, there's still one month to go in the first year since the state has yet to release the April handle. So that number will get even bigger.
To celebrate the one-year birthday of legal sports betting in Colorado, PlayColorado.com conducted a roundtable with the first sportsbooks to launch in the state, as wells as regulators. We wanted to know how their first year went and what the future holds.
You can also watch the PlayUSA to Z video at the top of the story for more coverage on the first year of sports betting in Colorado.
New Users Get up to $1,000 Bonus at Bet365
UP TO $1,000

In Bonus Bets
First Bet Safety Net up to $1,000, or Bet $5, Get $150 in Bonus Bets
Sign Up, Deposit and Play Today in VA!

Gambling Problem? Call or TEXT 1-800-Gambler 21+

To Claim: Click Play Now
How did the first year go?
Johnny Avello, DraftKings Sportsbook director of operations
"The first year in Colorado went extremely well and we're absolutely looking forward to year two. Colorado customers can expect more innovation to come as we transition to complete ownership of our backend technology. Primary details and observations include:
Although we see a significant level of engagement via mobile betting, our partner Mardi Gras Casino has seen notable action, including $500,000 winning wagers on the Tampa Bay Bucs and under the total in the second half of the 2021 Super Bowl, respectively.
Coloradans favor futures and proposition wagers on home state teams.
Professional football and basketball, college basketball and table tennis are among the top bet sports by handle.
Jim 'Mattress Mack' McIngvale flew into Colorado to make one of the biggest 2021 Super Bowl wagers at $3.4 million on the Bucs at +3.5 points, which won. In March, Mac once again flew to Colorado and wagered $1 million on the Houston Cougars at 9-1 odds to win the 2021 college basketball championship."
Matt Garrigan, FanDuel Sportsbook director of new market strategy
"It was very interesting. It was very unique. Obviously without the major sports it was a challenge, but I think it was a good challenge for FanDuel. It definitely allowed our teams to think outside the box a little bit and get creative and launch a state in a way we've never done. We actually launched Colorado with a free-to-play game instead of your typical betting markets that would be front and center of the campaign. Our campaign was a free-to-play game. The idea of that free-to-play game was to give customers in Colorado a reason to get excited. It was a challenging time for a lot of people so we were trying to give them something to cheer about."
Matt Provost, BetMGM Sportsbook CRO
"As a brand, we have exceeded our expectations in the market. We credit BetMGM's early success to the importance of launching on Day 1 when the market opens as well as to our partnership with the Broncos. We're really impressed with Colorado's broad interest in recreational betting and interest in the long tail of sports across the globe.
"The Broncos will typically have the largest handle of any event on NFL Sundays. The Nuggets, Avs, and Rockies betting interest in Colorado is also high but more variable due to TV coverage, quality of the matchup, and the time of the games."
Mattias Stetz, Rush Street Interactive, which operates BetRivers, COO
"One year into legalized sports betting in Colorado, and the residents of The Centennial State have shown how much they support their local sports teams. With the Denver Nuggets being the most popular team to bet on out of all teams regardless of sport, and the Avalanche being the most bet-on hockey team, Colorado sports fans are certainly demonstrating their loyalty to their home state."
Erica Ferris, Monarch Casino Resort director of casino marketing
"We are excited about the way BetMonarch has been received by guests. What our guests really enjoy is the fact that they can use the BetMonarch app from anywhere in the state. And then when they're ready to make their trip up to the property, they have comps and things ready for them to really enjoy the resort experience. And not as a first-time guest, but as a guest who has been with us a year."
Dan Hartman, director of the Colorado Division of Gaming
"Approaching the first anniversary of legalized sports betting, the numbers the program continues to post demonstrate that Coloradans are embracing this new form of entertainment that ultimately benefits all Colorado citizens. One year ago, sports betting wasn't the important story as the pandemic had everything shuttered, and we were all in the space of not knowing what the future held. Now, a year later, as we see the return to play for sports and patrons visiting now open casinos, we look forward to seeing what pattern the sports betting numbers settle into as we all return to normal."
What does the future hold?
Garrigan
"The future of Colorado is very bright. From our end average bets seem to be trending slightly higher than our national average so that's a good sign. Even a bit higher than Michigan and Pennsylvania, which are huge and strong markets for us. Obviously heading into the playoffs with two strong teams in the Avalanche and the Nuggets playing well, there is a lot of fandom there. Another pretty strong stat is the Avalanche from a NHL Stanley Cup futures market this year is on top of the podium for us. So that's slightly due to their success.
"We typically see the Flyers and the Penguins and the Rangers at the top, but the Avalanche are getting the most love nationally, not only from a handle perspective but from bet count as well. So you can see how all of this stuff correlates, right? The way the Nuggets are playing and (Nikola) Jokić is the top selection to win MVP by handle from our perspective. There's a lot to be excited about in Colorado if you're a Colorado sports fan. And we're excited as well."
Provost
"I would expect we see another uptick in player volumes and market expansion with the start of the NFL season and a gradual ramp throughout Q4."
Ferris
"It's really exciting. With all of the major league teams coming back. Knowing the Broncos are going to have a full stadium this year. Knowing the Rockies will have a full stadium starting in July. It means more people are going to experience sports in the way they're used to. They're going to be able to sit there in the ballpark and really be invested in the game in a way that they haven't been in the past year, which allows them to invest in sports betting and apps like BetMonarch in a way that they're really designed to."
Hartman
"As more people begin to feel comfortable going out again, the new retail sportsbook locations open and opening soon will drive a new demographic of people up to the gaming towns. Along with the new game offerings and no betting limits starting on May 1 this year, in-person retail sports betting options add to the casino experience for Coloradans. All these new, exciting offerings make the gaming towns and casinos a great designation."