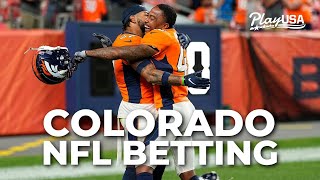 A little over five years ago, the Denver Broncos won the Super Bowl.
Why does it feel so much longer than that?
Needless to say, it's been a rough five seasons for the Broncos. They haven't made the playoffs in all five, and haven't had a winning record the last four.
So while there's a new general manager in George Paton and another new starting quarterback to add to the carousel, is the 2021 season going to be any different?
As Denver closes in on the regular-season opener against the New York Giants, that's the key question.
What do sportsbooks make of the 2021 Broncos?
To get an idea of what to make of Denver in 2021, PlayColorado asked the sportsbooks what they think.
As Johnny Avello, the DraftKings Sportsbook director of operations, said:
"I think they're a better than average team. Of course, they had some injuries last year on the defensive side that hurt them because the Broncos have really been about defense. Always been about the defense. You sprinkle in a good quarterback and you got yourself a chance to be competitive throughout the season. But last year, the defense took some hits. So I would call them a better than average team. Problem is, is that you always have these Chiefs standing in the way. I mean, they're just good. They have one of the top players (Patrick Mahomes) in the league. He's just outstanding. I didn't realize how outstanding he was until a few years ago when he continued to do it year in and year out, but that team's always going to be standing in your way.

"Now, as far as the rest of the league is concerned, the Raiders are probably better. I don't know if their performance is going to be better, but overall they are a better team. The Chargers certainly get another year under their belt with the quarterback (Justin Herbert). That's going to help them. I know they will be better. So it's a tough division. It's a competitive division. I think they'll show well. Ten wins I think would be a very successful year. Nine wins would be a successful year."
Broncos 2021 betting odds
If you look at the Broncos betting odds, there is potential for this season to flip the script. The current odds are pretty favorable for Denver this season.
The Broncos over/under wins
Denver to reach the postseason as a Wildcard team
The Broncos to make the playoffs
If Denver is able to hit 9 wins, that would hit the over of the current 8.5 at DraftKings and a few other sportsbooks.
That could also put the Broncos in the AFC playoff hunt and would end the four-straight seasons without a winning record.
Can get the Broncos get to 9 wins?
But will it happen?
As Jay Kornegay, the SuperBook Sports executive vice president of operations and lifelong Broncos fan, said:
"Well, I know that there's always high hopes in Broncos Country, and I try to be unbiased when I talk about the Broncos. And I've been out here (in Las Vegas) and away from them for 35 years now, but I'm still a true fan and I follow them each and every week. With that said, the over-under season win total is at nine, and it's been holding there for a period of time now. And I don't expect that to change in the last week-and-a-half before game one. I think the Broncos are going to be just about average, with the chance to have a little bit more upside than I think most people think."
Denver needs Teddy Bridgewater to play well
The key to Denver's season is the quarterback.
For now, Teddy Bridgewater is the starter after an offseason battle with Drew Lock.
If Bridgewater is able to take care of the ball, utilize the weapons he has and take advantage of what could become the best defense in the NFL, the Broncos have a chance.
"It always depends on injuries, I believe, and the depth of the bench, and I think they're fairly solid," Kornegay said. "It's very difficult to predict the NFL. But looking at it right now as it is, I believe that the number nine is very solid, if you were to ask. And I'm not just saying because that's what the number is. I think they're going to win nine games. I think they could win nine. I think they certainly have a better chance of winning 10 than eight."
Where there's still debate is whether Bridgewater can live up the expectations.
"Well, Teddy Bridgewater has shown the ability to run an NFL team," Avello said. "Drew Lock has shown signs of that. So I don't disagree with the move initially. It's great to have a guy like that in your back pocket that you can throw in there when needed. But a lot of teams don't have the second guy to step in and be a quality guy. So that's an advantage, I believe, to the Broncos. But I do think Teddy Bridgewater does deserve the start. He's been around the league a little more and he has had success. So give him a shot and see what happens."
Broncos' fast start crucial to success this season
What could help is to finally get a win in September. In the last two seasons, Denver hasn't won a game in the NFL's opening month. To have a sniff at nine wins, at the very least the Broncos have to go 2-1 in the first three games. Based on the competition, Denver should go 3-0, but then you remember the last two seasons. The Broncos open with the Giants, followed the Jacksonville Jaguars on the road and the New York Jets for the home opener.
"I think (a strong start) is critical," Kornegay said. "They never play well on the East Coast. I still remember the time when they were looking at an undefeated season (1998) and they go into New York and lose to the Giants. I can't remember what week that was. It was like week 12 or something like that. It was kind of later in the season. And it's always tough for them to go there. But they're favored in all three games, their first three games. And at worst, I think they should get out of there at 2-1. If they come out 1-2, it makes that hill a little steeper. But they have a chance. I mean, even though they're small favorites in the first three games, they have that chance of getting out of there 3-0. But I think more realistically, 2-1 is what we're looking at."
Teams that could surprise in 2021
The NFL betting interest is what you would expect — the Chiefs and Tampa Bay Buccaneers.
There are a few teams that could sneak into the conversation.
"I think the Browns made it to the playoffs last year, and showed well in the playoffs," Avello said. "That quarterback now has another year under his belt. That team has a lot of quality players. So I expect to see a pretty good season from them. The Rams, it's funny how you get a quarterback who's been with a team for years that hasn't really made the playoffs. Now he gets a chance to go to a team that has talent in all areas. So we'll see if Matthew Stafford can stay healthy and take a team far beyond into the playoffs, possibly the Super Bowl. So that's a team I think that also has a lot of talent.
"If you're looking for a couple of teams on the outside, maybe the Cowboys possibly. Maybe the Patriots now that they've announced that Mac Jones is going to be the starting quarterback. I think the team will have a good year, whether they can get into the playoffs or how far they go. Well, that's yet to be determined, but certainly a couple teams to look at. The Steelers, Ben Roethlisberger, may be his last year. So, a couple of things Ben has to not do is get hurt and force the football, which he has a tendency to do. But I think they'll, like I said, I think there'll be some surprises along the way and we'll have to see what those surprises are."
Packers on the decline?
One team bound to get Super Bowl betting focus is the Green Bay Packers. Since most seem to think this is Aaron Rodgers' final season in Green Bay, they'll want to go out on a championship note.
Kornegay doesn't agree.
"I'm not too optimistic about Green Bay. I feel like they have some internal issues that they still have to work on. But if Green Bay comes and starts off slow, it could be a disaster. Now, they could possibly rally around that, but I would certainly lean more towards complications and issues and poor play over 'we're going to rally and make this last hurrah a good one.' I think that they're on very thin ice up there in Green Bay."
As for the Broncos, the hope is that a new GM and another starting quarterback can finally end this recent trend of disappointment. In the process, get Denver back in the playoffs.
But after five long seasons, the franchise has to prove it on the field.