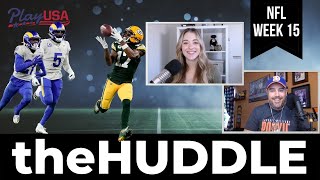 Give this to the NFL, it's never boring.
That is especially true in Week 15. And not because of the play on the field. Though on Thursday night between the Kansas City Chiefs and Los Angeles Chargers, it was a good start to the week of games.
No, this excitement is from the seemingly never-ending string of players entering the NFL's COVID-19 protocol. At this point, it's like a new player gets added to the list every 5 minutes.
From a betting perspective, that makes it even more challenging.
But FanDuel Colorado Sportsbook has a new-bettor promo to help remove the sweat.
Bet $5, win $125 in cash money if Saints vs Bucs get a TD
When it comes to "no-brainer" and "no-sweat" promotions, FanDuel continues to pump them out a regular clip.
For this bonus, you don't even have to bet who wins the game.
This Week 15 promo is for the New Orleans Saints vs the Tampa Bay Buccanneers. And it cashes if either team scores a touchdown. You read that correctly. If either team scores, you win.
For the Saints and Buccaneers promo, new users have 25-1 odds on either team to score a TD. All bettors have to do is place a $5 bet on the FanDuel enhanced market "1+ TD to be scored in the NO – TB game," if either team gets in the endzone you get $125 in real money. The winnings don't come in site credit or bonus as is the common practice at other sportsbooks.
As just noted, this promo is for new FanDuel bettors only.
Here's how it works:
To claim the offer, new bettors must register and make a first-time deposit.
After you do, place your $5 bet on that enhanced market for Sunday night's game.
Keep in mind if you use this promo, it replaces the bonus bet of $1,000 that is also available. Bettors who claim this Saints and Buccaneers promo will not be eligible for any other acquisition-specific offer.
Rare promo to payout in cash
Since FanDuel has done this for a few weeks now, it's not that rare. Although this iteration is unique. Typically the sportsbook will have a bonus on either team to win.
Still, most sportsbooks payout these promos in bonus.
That opens up a few possibilities for what you do if you win.
You can leave some money in your account and try out a few different bets on the app. Test out the same game parlay feature and/or a few game props.
You can also cash out.
The choice is yours, and the fact FanDuel gives you that freedom is a nice change.
No-sweat promo
Given all of the uncertainty in the NFL right now, this promo takes all of the research and fretting over your bet out of the equation.
Tom Brady and the Bucs have one of the best offenses in the NFL.
New Orleans has Alvin Kamara.
While no bet is ever "guaranteed," one of these teams will score a touchdown.
If you're a new bettor, take advantage of this "no-sweat" promo, sit back, enjoy the game and wait for your $125 in real cash money to get put in your account.