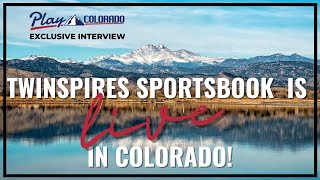 TwinSpires Sportsbook is now live in Colorado.
Well, the app and online betting option that is. The retail sportsbook at Bronco Billy's in Cripple Creek has been live since last September. Only until March 5 it was known to Colorado sports betting as BetAmerica.
Churchill Downs now has its sportsbook as TwinSpires, thus the change. TwinSpires is the Churchill Downs-owned industry-leading online wagering platform for horse racing and sports, according to the release that announced the launch.
As for the sports betting app, it's been a hectic week for the sportsbook. It launched in Indiana and Pennsylvania on Tuesday.
When you add in that we're closing in on Kentucky Derby week, it only builds the stress but also the excitement. Quick distinction to help eliminate any possible confusion: The TwinSpires sports betting app is completely separate from the horse racing app.
To kick off the launch here, PlayColorado did a Q&A with Alan Stremel, the VP of sports for TwinSpires. You can also watch the complete interview in the video at the top of the story for even more insight and a deeper discussion on the market
New Users Get up to $1,000 Bonus at Bet365
UP TO $1,000

In Bonus Bets
First Bet Safety Net up to $1,000, or Bet $5, Get $150 in Bonus Bets
Sign Up, Deposit and Play Today in VA!

Gambling Problem? Call or TEXT 1-800-Gambler 21+

To Claim: Click Play Now
PlayCO: How excited are you to launch the sportsbook in Colorado?
Stremel: We're just tremendously excited to be a part of the online betting space in Colorado. It's a great market, dedicated fans, and informed-based sports fans, and launching today is huge for us. So adding another state is always great and we just couldn't be more thrilled about being in Colorado.
PlayCO: I mentioned it being Kentucky Derby week. Was that a part of the plan to launch it the week of the Kentucky Derby?
Stremel: Well, with the Derby coming up, there couldn't be a better time to be a TwinSpires player. I know there's a ton of great weeks on the sports and racing calendar, but with the NBA, MLB, NHL all in full swing, and with the Derby, it's pretty tough to beat.
PlayCO: What will separate TwinSpires from the other sportsbooks that are currently up in Colorado?
Stremel: So TwinSpires, we're backed by Churchill Downs, the home of the Kentucky Derby and nearly 150 years of wagering history right here in the U.S. So I mean, that's a huge part of our point of difference. We've been doing this a long time. We understand the market and I think further expanding into sports is just such a natural progression for us. So we're going to leverage our experience in horse racing and this particular audience to build the best product promotions and experience for players.
PlayCO: In terms of the Kentucky Derby, is there anything special planned? I mean, obviously it's the launch, but anything that Colorado horse bettors and even sports bettors can look for over the course of the next couple of days after the launch and going forward?
Stremel: Yeah, absolutely. I mean, there's going to be essentially round-the-clock promotions, betting opportunities, either on the newly launched TwinSpires sports app or on our horse racing app. So you can find it all at twinspires.com, all the most up-to-date promos, player options. On the sports side, if you're a new player registering now, you can have a chance to get up to $1,000 bonus bets and just a daily stable of promotions that are constantly updating.
PlayCO: You mentioned that experience with Churchill Downs and the 150 years of betting experience. How does the experience of your launches in Indiana and Pennsylvania help with Colorado?
Stremel: Like with any team, experience is important. I think the experience we bring in drawing to this is really crucial to what TwinSpires does. As we gain momentum with our launches in Pennsylvania, in Indiana for TwinSpires earlier this week, and Michigan and Tennessee recently, it's just an exciting time. The process is smooth. Players are happy. Working with great regulators in the state and our own internal teams, we're providing a more targeted experience to players wherever they are across the country where we operate.
PlayCO: In terms of the Colorado market, I've talked with other operators. As you're just getting into it and you've researched it prior to the launch, what is possible for this young budding market that's about to go into its one-year anniversary?
Stremel: I think Colorado is going to be a really great state for us. It's going to be a good competitive spot. I think that's going to really benefit players. I think the players that are going to be with us or that are going to sign up in this early push are going to be happy, well rewarded and well taken care of. The players that aren't with us yet are going to be interested. So I think with the crossover into multiple verticals, including horse racing and what they can do during this week, one of the biggest weeks in horse racing at TwinSpires, and I think the growth for Colorado is going to be really exciting for us.
PlayCO: With the market launching without major sports through most of the first couple of months, and still having bettors wanting to be a part of it, what does that tell you about sports coming back? As we finally start to come out of this COVID-19 tunnel that we've all been a part of for a year, what does that tell you about the users in this market and their potential to get on board and start really getting into it?
Stremel: Of course, I'm biased, but sports are just such an important part of life and entertainment and bringing people together and just being really sort of dedicated fans. I think a company like us with TwinSpires offering the ability to get a little further into the game, bringing another piece of that excitement home is just part of life and is exciting. Certainly, as we get back into the swing of a bit more normality here, the sort of comfort of the sports calendar and the racing calendar is such a huge part of that for me.
PlayCO: Of course, if we're talking about sports betting in Colorado, I have to bring up table tennis. What is the deal in your opinion with Colorado and table tennis? Obviously, there wasn't anything to bet on, as I mentioned earlier because of the pandemic, but it has stuck. Do you think it's here to stay, and why can't Colorado quit table tennis?
Stremel: It wouldn't have been something I would have predicted before, but now that players have gotten a taste of it, I think it just kind of speaks to what is available from an international spectrum to be able to play, right? So it's the obvious stuff, the mainstream North American pieces. But I think, when you sign up to become a player at TwinSpires, you're just going to see the opportunities of more sports to learn about, to play and to bet on and to gain some of that excitement.
Table tennis being one of the ones with a lot of content. So when you look at all the options for international soccer, for racing, the full gamut, it's not just the big sports in North America, that's for sure.