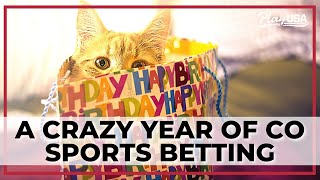 Colorado's sports betting market will always be remembered for how it launched amidst a global pandemic.
The other way is for the response by the bettors in the state. It's that response that led to $2.3 billion wagers in the first year, according to unaudited data released by the Colorado Division of Gaming on Monday.
We knew the state eclipsed the $2 billion in handle after the release of the March revenue report, but these new numbers put a bow on the first year of sports betting in Colorado. Keep in mind we will still get the more "detailed" report for April later this month.
For now, the data released on Monday shows that April generated $245.3 million in bets. That is an expected drop as sports betting in the U.S. typically slows down.
Colorado hits third-most for a market's first year
If we assume the numbers for April are correct, legal sports betting in Colorado would be the third-most for a market's full first year. That is behind only New Jersey and Illinois. However, keep in mind that COVID-19 has skewed these results, so we'll see how this number holds up as more markets launch across the country and we get back to normal.
Other insights from the unaudited numbers include:
$148.1 million in gross gaming revenues, including $18.3 million in April.
$66 million in net betting proceeds, including a record $15.1 million in April.
As Dan Hartman, director for the Division of Gaming, said in the release:
"The first year of sports betting exceeded our expectations, especially after we launched amid a worldwide pandemic that shuttered the casinos, the industry, and Colorado. Looking back on a year ago, I don't believe any of us expected to be where we are with our numbers and our operations. Colorado is setting the benchmark for what a healthy, regulated legalized sports betting market can look like in the United States, and we will continue to be known for our regulatory leadership."
Operators continue to learn more about the Colorado
In terms of the operators, sportsbooks like FanDuel are still learning a lot from this unique first year here in Colorado.
"The challenges with the sporting calendars and, obviously, the pandemic," Matt Garrigan, FanDuel director of new market strategy, said to PlayColorado. "Different sports were playing at different times and shorter seasons. So we're definitely learning a lot about our customers. We're learning a lot about the market. There's a lot of great competition in Colorado and some of those operators we're not used to seeing in other markets. So, overall, it's going great. We're excited about Colorado; especially with what's going on with the sports teams in Colorado. I think the customers are pretty excited as well."
As the numbers for the year show, $2.3 billion in wagers, bettors, operators and the state were able to make it work. Remember, the numbers from April are unaudited.
There are still areas that need improvement and kinks to get ironed out, but the expectations remain a mile high for this burgeoning market.
As Garrigan said:
"I think with everything that transpired we were able to reach a pretty big audience of customers with different, unique offers and features within the product. So I think that went really well for us. Obviously looking at the success of the Nuggets and the Avalanche, it's a really fun time to be a Colorado sports fanatic. So I think that's obviously working in our favor. I think parlaying all of those things, the Colorado market is exceeding expectations and we're excited about it."