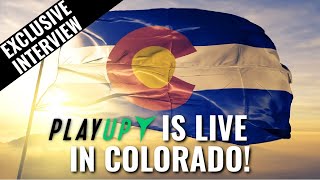 Laila Mintas is an innovator.
And she wants the same from the just-launched PlayUp sports betting app.
Yes, she is one of the only female CEOs in the sports betting industry.
But she's not afraid to take a risk.
Mintas wants no part of a copy-and-paste of what Colorado sports bettors currently see and use with the other Colorado sportsbooks.
It's been said before, but she truly wants to disrupt the Colorado market.
She wants to disrupt sports betting in the U.S.
Now that PlayUp is live in its first state, PlayColorado did a Q&A with Mintas to discuss what bettors in Colorado should expect from the app, how its success in Australia will help in America, and what is possible for this growing market.
And since you can't go 5 minutes without talking about it, will the Denver Broncos trade for quarterback Deshaun Watson?
This is only a portion of the interview. For the complete Q&A, please watch the video at the top of the story.
New Users Get up to $1,000 Bonus at Bet365
UP TO $1,000

In Bonus Bets
First Bet Safety Net up to $1,000, or Bet $5, Get $150 in Bonus Bets
Sign Up, Deposit and Play Today in VA!

Gambling Problem? Call or TEXT 1-800-Gambler 21+

To Claim: Click Play Now
PlayCO: How excited are you to finally get this up and rolling?
Mintas: It's been a great journey so far. So I have to say, Colorado is a great state. The regulators are very nice to work with, very supportive. We selected Colorado as the first state to launch for many reasons. One reason was just, technically, it was the first state we signed up. So we signed a contract with Bull Durham, which is a local casino, obviously, with a long history in Colorado. So we're very proud of that relationship. But then also Colorado has a lot of potential. We have seen that over the last months, with just January getting over $300 million on handle. So that's great. I think 97% of that is online. It's crazy. An online brand like PlayUp, we couldn't be happier about that development. We do online only. We don't do any retail. And I think the strategy is very timely at the moment.
PlayCO: When we first talked, you told me that you want PlayUp to be seen "as innovative. A young and fresh company that comes in and wants to disrupt the market. We don't want to come in and copy and paste what's out there already. We want to disrupt the market." How do you plan to do that?
Mintas: That vision hasn't changed. So that's the No.1 priority is to just disrupt what's out there. And we're speaking about the U.S. We're speaking about a very young market. It's almost legalized for three years now. And more and more markets are, obviously, opening up. The leadership team that founded PlayUp in Australia has always been very innovative. To give you one example, PlayUp was the first real-money fantasy platform in Australia where people actually could do daily fantasy, had to sign up for that and had to pay in order to do that.
Since then, we have been the biggest platform in Australia when it comes to daily fantasy. Over time, we added horse racing, sports betting, other fantastic products to that offering. And I'm planning to bring the same ideas to the U.S. So what Australia has done in terms of fantasy products that don't exist anywhere in the U.S. as of today. On horse racing, on esports and other great products, we will not bring them one-to-one into the U.S. but probably take some of the learnings we had in Australia and adjust that to the U.S. market. I think the U.S. is so specific, you cannot copy and paste anything that's out there in Europe or Asia or Australia and just bring it in. You have to customize a solution for the U.S. and that's what we're going to do.
PlayCO: One of the things that surprised me when I talked with you for the launch story that came out on Monday is that you're a premium brand that focuses on the high-end customer. What does that mean? And what does that allow you to do since you have, as you say, a world class risk-and-management team in place? What advantage does that give you over some of the other books that are already in the market?
Mintas: PlayUp is a premium brand. So we focus more on quality than quantity, I would say. We like to also take the customers that want to put in high-end stakes, that want to do high-up bets. At the end of the day, my experience being in sports betting since 2006 on a global level and then probably for the last eight years more focused on the U.S. market, is really that a lot of brands here in the U.S. are afraid to take big bets. And that makes sense, right? So if you don't have a world class risk and trading team and rely maybe on an external vendor that does that for you, you don't want to take those bets on because it's risky.
We believe that through the experience that we have had so far, and which we have proven in Australia, that we can actually take bigger bets on. So we're not afraid to do that. And that's why I'm saying we actually focus on the higher segment here. You will see us coming in accepting bets that nobody else in the market will probably want to take on, which can be a great differentiator. So from my former experience, I know that big sportsbooks often skip on those opportunities. We have been able to actually differentiate through that in Australia, and we think that makes sense also for the U.S. as I see that gap in the market currently.
PlayCO: What is possible for this market?
Mintas: It's going to be a very big market. That's what I told you already when we spoke last summer. From that time, I always believed that Colorado has a lot of potential. It probably surprised many players in the market. It over-exceeded expectations, really. And we will see that growing. What's very exciting, as I said, 97% on online, which is, of course, due to COVID and the pandemic. And we see that in many markets. That couldn't be better timing for us as an online brand. But then also you have four major sports teams, right? And you have excellent college teams as well. So historically, a lot of energetic sports fans that like to bet and like to be entertained. That's all the ingredients you need. And then from a sportsbook's perspective, having remote signups. That's a big advantage. Like in Las Vegas, you don't have to walk into a casino and sign up in person. You can actually do that when you're home.
PlayCO: I have to ask, what is the deal with Colorado and table tennis?
Mintas: I knew you would ask me that question. I mean, everyone is excited about Colorado and table tennis. But we offer 150 different sports, so table tennis is one of those, of course. We do esports betting. We have very interesting parlays. So there are many, many different products, but table tennis is included there, for sure. Very important.
PlayCO: Are the Broncos going to get Deshaun Watson?
Mintas: The odds look very good for that, so I would say yes.