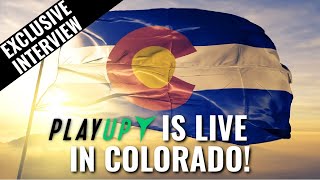 A change is coming to Colorado sports betting from Down Under.
Just how drastic depends on the individual bettor.
Nevertheless, Colorado sports bettors are now free to see for themselves with the launch of the PlayUp sports betting app.
This is the first market in the U.S. for the Australian sportsbook. It's known for its Australian sports betting, fantasy sports and fixed-odds horse racing.
Now through PlayUp's 10-year contract with Bull Durham in Black Hawk, PlayUp will bring that same knowledge and experience to the burgeoning market that aims to disrupt the country.
After months of speculation, PlayUp is now live.
The app did a soft launch last week as a way to iron out the kinks and prepare for Monday's unveiling.
As Laila Mintas, U.S. CEO for PlayUp, told PlayColorado:
"Over the last months, PlayUp has secured market access in various states across the U.S. Colorado was the first of those states that we signed back last year. We have always been excited to launch in Colorado. The state has a great sports culture and the fans have proven to be very passionate. The sports betting market has been remarkable with the nearly $400 million in handle from January as a testament to how much demand is in Colorado. The regulatory framework has set a standard for player protection while also creating opportunities for online operators like us."
New Users Get up to $1,000 Bonus at Bet365
UP TO $1,000

In Bonus Bets
First Bet Safety Net up to $1,000, or Bet $5, Get $150 in Bonus Bets
Sign Up, Deposit and Play Today in VA!

Gambling Problem? Call or TEXT 1-800-Gambler 21+

To Claim: Click Play Now
PlayUp wasting no time
While this is the first market in a new country for PlayUp, the sportsbook is not coming in blind.
When it was announced that PlayUp was going to enter the Colorado market, Mintas said Australians bet a lot on American sports.
As she said back in July:
"So our advantage in the market is that we know U.S. sports. Our risk and trading team, which we have in-house, they handle U.S. sports already. Our customer service is in-house — they handle U.S. sports already. So we are basically used to U.S. sports."
PlayUp is wasting no time getting in front of Colorado bettors, either.
And just in time for the first March Madness betting in the state.
"Launching right before March Madness is perfect timing for us along with the 97% handle coming from mobile bets creates a great opportunity," Mintas said. "Our welcome offer with a $20 bonus for signing up without any further obligations and a 200% match up deposit bonus is the strongest offer in the Colorado market."
PlayUp focuses on the high-end customer
If you pay attention to sports betting talk, a lot of chatter has been placed on the betting limits for casual and professional sports bettors.
That's one of the ways PlayUp looks to shake things up.
Now that PlayUp is live, Mintas and the sportsbook are out to not just make a dent in Colorado sports betting but move the market so drastically it resembles when Peyton Manning signed with the Denver Broncos in 2012.
Ready or not, change is about to hit Colorado sports betting.
As Mintas said:
"We have a different strategy then our competitors. PlayUp is a premium brand that focuses on the high-end customer. We have a world class risk and management team in place which allows us to accept larger bets. Our slogan is 'Your Best Bet' and we will make sure that is true. We will offer the best odds in the market and provide a smooth user experience.

"With only three clicks the customer is able to place a bet. We believe that sports betting should be fun and entertaining. PlayUp will also offer more than 150 different sports, including eSports and attractive parlays. We will add more exciting content over time."
If you want more on the PlayUp launch, PlayColorado did a Q&A video interview with Mintas.