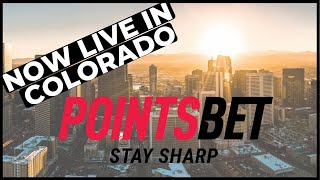 The last step of the PointsBet launch in Colorado is now complete.
The sportsbook that has made news in the market since the summer is finally live.
Users in the Centennial State can now download the app on iOS or Android.
PointsBet reached an agreement with Double Eagle Casino in Cripple Creek in late July 2019. That is one of the first partnership announcements in the state. There are plans for a retail sportsbook at the casino but when that might happen is up in the air thanks to COVID-19.
Get up to $1,000 in Second Chance Bets at Pointsbet Sportsbook
Get Up to $1,000

In Second Chance Bets
Get up to $1,000 in Second Chance Bets
10 Bonus Bets up to $100 each
To Claim: Click Play Now

PointsBet Colorado launch
PointsBet is now the 16th sports betting app to launch in Colorado.
Up until now, PointsBet has done a remarkable job of getting its name in front of potential users.
If that wasn't enough, PointsBet is also making Denver the home of its U.S. headquarters. The office is planned for LoDo in downtown Denver and will have upwards of 200 employees.
After seeing PointsBet in the sports betting news in Colorado for the last few months, users are now finally able to download and use the app.
The sportsbook is also live in Illinois, Indiana, Iowa and New Jersey.
To kick off the launch here, PlayColorado did a Q&A with Trip Stoddard, the director of customer experience and insights at PointsBet. You can also watch the complete interview in the video at the top of the story for even more insight and a deeper discussion on the market for sports betting in Colorado.
PlayCO: Why is Colorado such an emphasis for the sportsbook?
Stoddard: I think the main reason for us, for PointsBet, is we're actually based here. We're local. We've moved our office to downtown LoDo, which is great. We're 10 minutes from Ball Arena. We're right next to Coors Field. And it's just a great sports town. We've got the big four professional teams, which is fantastic. We've got good college teams, which really just made us think this is a great place to launch and a great place to be based from.
PlayCO: Customers will see that PointsBet has made news for basically everything but the launch. Why launch now in the middle of November?
Stoddard: Obviously we're live in a few other states. But when we launched in Colorado, we didn't want to just come in, try to be there first and give people a sub-par experience. So this has really given us time to just work and launch the best experience. We've got the fastest app. We've got the easiest app to make a bet. We really wanted to come in for the local bettors and the first time they use PointsBet for them to say 'this is amazing. This is my favorite app. This is where I'm going to place my bets.'
PlayCO: Now that Colorado is in its sixth month since the launch, what has PointsBet been able to gather through those first six months?
Stoddard: What we're expecting in Colorado, and what some of our competitors aren't doing, is they're really treating Colorado as this brand new state with people who don't know a lot about sports betting. And are maybe a little bit unsophisticated. When the truth is, through all of our data, through all our research, Colorado knows sports. We know our teams. How to bet on them. We know lines. So it's really treating them as someone who knows what they're going to do and give them the very best experience for it.
PlayCO: What can the sportsbook bring that no one else is bringing to this market at this point?
Stoddard: We want to make new users extremely excited about their hometown sportsbook. So some of our competitors are doing new-user offers. But we really wanted to be the best. And we're offering $1,000 bonus if you come and join PointsBet. It's going to be $500 bonus on anything you want, $500 bonus PointsBetting, which is our exclusive way to bet. It's amazing. Basically the more you're right, the more you'll win. But along that, we really wanted to do some local odds, some local boosts. And we're doing a special Nuggets booster. I'm a huge Nuggets fan, and we're boosting the odds to win the championship to +5,280, which is obviously a pretty big Denver number for everyone that's from here and that lives here. We're also doing a special Phillip Lindsay market for next weekend (against the Miami Dolphins) where you're going to get a bonus for every single rushing yard that he gets if you do bet on his over for rushing yards. And then last one, just because again we really want to hit Colorado hard, is going to be $100 bonus on a local team. And that's amazing because I like to bet. But it is just more fun when I'm betting on the Nuggets, when I'm betting the Broncos, when I'm betting on the Avalanche. Anything for the local teams and the local fans.
PlayCO: What went into that deal between Kroenke Sports and PointsBet? And what is the hope, what is the expectation with that kind of deal that you guys were able to make?
Stoddard: I think what was really, really important to us was being an exclusive partner. You see a lot of teams out there that they're partnered with three or four sportsbooks. And we want to be the Colorado book. We want to be local. And if you're walking into Ball Arena, we want you to know that you can bet with a local operator. You don't need to go with one of the national big dogs that probably don't care too much about the state. So with that, we partnered with Kroenke. And we're trying to do just a very amazing experience in the arena. So there's going to be a PointsBet lounge, even if that's not going to be the official name. But it's somewhere you can hang out with your friends, where you can place a bet, where you can have a drink before the game — maybe after the game. They're also working on brand new WiFi. I think anyone ever who has been to an arena has probably been frustrated somewhere that you can't text. You can't even get a fantasy update with your team. So they're working on that and it's just going to be a really, really nice experience for the average fan going to the game and having some new things to do.
PlayCO: What's next for PointsBet?
Stoddard: We're most excited about Colorado right now. And then we are going to continue to launch in other states in the U.S. What people can expect from us is we're just not one of these big, gigantic companies that's from overseas that's basically just trying to give you a cookie-cutter experience so you can place some bets. We're really focused on our local promotions. We're really focused on every state that we go in making sure it feels like those promotions are crafted exactly towards you. In Denver specifically, we want to give you the best Nuggets odds, the best Broncos odds. If you're going to make a bet, for it to happen with us. We want you to have a good time, a safe time, and a fun time.