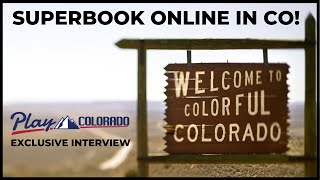 The wait is finally over — The SuperBook has officially launched in Colorado.
After months of speculation and teasing it'll open "soon," the sportsbook based in Las Vegas at the Westgate is now available for the Colorado sports betting market to download.
The SuperBook is the 17th app to launch in the state.
This is also the first venture outside of the state of Nevada for the SuperBook.
In April, it was announced that the SuperBook would pair up with The Lodge Casino in Black Hawk to provide both an online and on-site sportsbook option to prospective bettors.
The SuperBook is one of the largest and most successful sportsbooks in America. It is currently operating throughout Nevada via mobile betting and at its flagship location at the Westgate Las Vegas Resort and Casino.
As for the retail sportsbook at the Lodge, it will be a mini version of what you see in Las Vegas (more on that in a bit).
But at least for now, the SuperBook app is finally live in Colorado.
To kick off the launch here, PlayColorado did a Q&A with Jay Kornegay. He's the executive vice president of operations at the Westgate SuperBook.
You can also watch the complete interview in the video at the top of the story for even more insight and a deeper discussion on what the future holds for the SuperBook in Colorado and sports betting in the state.
SuperBook Colorado launch
PlayCO: How cool is it for you to launch the SuperBook, in its first state outside of Nevada, in your home state?
Kornegay: It's a little ironic. It wasn't planned that way, to be honest. (Laughs) But we are certainly thrilled to be in Colorado. It certainly means a lot as Colorado holds a special place in my heart. I still feel part Coloradan, even though I've been out here in Vegas for many years now. But to have our first launch in this great state is something special.
PlayCO: Why did you launch in Colorado? Why come into the Centennial State?
Kornegay: There are a few things that are very attractive to it. The tax rate (10%). The regulation-friendly (state laws). Remote signups is always attractive for an operator. And with my connections and being from that area also added to the equation. So we thought it was a state that had tremendous upside with the fans there. They are great sports fans, as I've been preaching to them for over two years now. They're very loyal fans. Even to those Rockies. I live and die with the Rockies. But the Broncos as well.
Explaining the Colorado fan — they're so loyal but they're true sports fans. They're very loyal to their team but very loyal sports fans overall. And in combination with (being) regulation-friendly, the easy tax rate, and hooking up with our great partners from the Lodge, it all made sense. It was a no-doubter once we put those pieces in place, that we were going to come to Colorado.
PlayCO: What will separate the SuperBook from the other sportsbooks that are currently up in Colorado?
Kornegay: We've been watching it, and, as you can imagine, monitoring all of the operators out there. And there are a lot of tremendous operators out there. A lot of good people, and I know a lot of them. What separates us from some of the others is we have a very expansive menu. We're price friendly. We have better odds, in most cases. Hooking up with the Lodge is certainly a plus as well, as many people in Colorado are familiar with the great partners we have. …
Whether it's pricing in the splits that we have, we always encourage people — and this is what we've seen out in Nevada — most sports players eventually will have two to three accounts. And we highly recommend that. Once they do open up a number of accounts, they're going to see the difference between our product and some of the others because we have a tremendous menu.
We focus on Colorado sports. As you can imagine, we really want the hometown flavor in each state that we operate, but especially in our first launch here in Colorado we have focused on the Colorado teams.
PlayCO: What is possible for this market? We've talked about it a little bit over the course of the summer of 2020. But now that we know what the market looks like heading into 2021, what is this market capable of going forward? Are you surprised that it's already jumped into the top five, top six markets in the country based on handle?
Kornegay: I'm not surprised. Just knowing how the sports fans of Colorado warm up to all the different offerings, all the different sports — certainly their home teams. You've got to remember that this is taking place when a couple of these teams, our teams, have struggled. I can only imagine what the numbers are going to be when the Broncos have success. We've got the Nuggets there. We've got the Avs there. We'll wait on the Rockies a bit. I can only imagine what the numbers will be.
I think that they have the chance of probably more than doubling what Nevada does over time. If you look at just pure population numbers — the state of Colorado has, I believe, around 6 million people and the state Nevada has 2 million. Even though we have a strong tourist crowd, I still believe when it's all said and done, and people realize how fun and entertaining sports betting can be — which I think that's taking place as we speak — Colorado has the potential of being a top five state for a long, long time.
PlayCO: In terms of your retail book, you have plans to launch a miniature SuperBook at the Lodge Casino; what can you tell us about that? And the plans for when users could potentially see that up in Black Hawk?
Kornegay: We and our partners at the Lodge, we've been working with them for a year now and it's fantastic. We are excited to announce that we will be breaking ground on our SuperBook retail outlet at the Lodge later this month in January. We hope to have it done completely probably in March. We probably won't make March Madness, unfortunately. The pandemic has really slowed this down, just like it has affected the rest of the world. It certainly has affected our world in this launch. But right now, we just want to make sure we get it right. We know that this is more of a marathon than a sprint.
And so we have designed, I think, a fantastic area in the Lodge property that fans are going to be able to go to and enjoy their games. Wager their games. Sign up for accounts. And right now we're in the process of hiring. We've already hired a lot of our staff there, and educating them on the importance of, one, compliance, two is customer service. We want to make sure that we abide by all of the rules but we also want to make sure we give five-star service as well.
We are looking for about 26 TVs up there. We will have three betting windows. We're putting in a brand new bar up there as well. The SuperBar. That will be right in the viewing area. It's not going to be 30,000 square feet like you see in Las Vegas. But it's going to be an area that I think many sports fans are going to be able to enjoy.