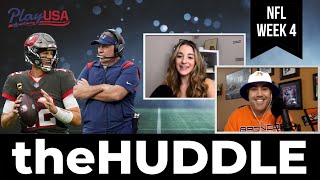 Sports bettors are always on the hunt for promos.
And the sportsbooks are more than happy to oblige.
Now that the first month of the college football and NFL season is gone, they're not as in your face. After all, the return of football gets the juices flowing and kicks off the rust from summer.
But there are still good profit boots and promos for Colorado sports bettors. Each week on the new show "theHuddle," Nicole Russo and I do a Promo Party where we offer up our favorite promos of the week. Check out the video at the top of the story for our football betting talk.
This roundup will include our picks but also some of the other promos that punters should consider.
Tom Brady bets
If you haven't heard, Tom Brady is back in Foxborough this Sunday to face the New England Patriots with the Tampa Bay Buccaneers.
You also may have heard that he sits 68 yards shy of breaking Drew Brees' NFL career passing yardage record of 80,358.
To add some excitement, DraftKings Colorado Sportsbook has some Brady Bets you can play with. On top of that, the sportsbook is offering three 25% profit boots that you could throw on one or multiple Brady Bets markets. To get the profit boosts, you have to opt-in.
The most popular will no doubt be "Which Tampa Bay player will catch the record-breaking pass from Brady."
The favorite was, obviously, tight end Rob Gronkowski, who is also making his return trip to Gillette Stadium. Though that was given a serious cold shower when the Buccaneers listed him as doubtful for Sunday's game in the final injury report. DraftKings has since pulled Gronk from the market.
The current favorite for NFL bettors is Chris Godwin, with the line currently at +330. If you use one of the profit boots that jumps to +412.
What's hilarious is that Brady is an option to catch the record-breaking pass at +10,000.
For that to happen, the pass would have to get deflected at the line of scrimmage, Brady catches it and then runs for the yardage. Is there anything more Brady than that?
There are five other betting markets available, including number of completed passes to get the record (over/under 5.5) and Brady over 67.5 yards in the first quarter.
Bet $1, win $100
Nicole's pick for our Promo Party is the bet $1, win $100 for new bettors from WynnBet Sportsbook.
This is for any college football or NFL game, and it doesn't have an expiration date.
Here's how it works:
Opt-in by hitting the "Deposit Now" button on the promotion tile above.
Then, make your first deposit of $20 or more.
Finally, place a spread, moneyline, or over/under straight bet on any college football or NFL game of $1 or more and win a $100 bonus if a touchdown is scored in the game.
That's it. It's one of those no-brainer promos sportsbooks throw out there.
bonus touchdown bet
The BetMGM Sportsbook is offering a bonus promo for bettors.
If you place a prop bet on a player to score the first touchdown of any NFL game and if your wager loses, you'll receive up to $25 in bonus.
It's always a risk to bet on the first TD scorer, so to have this as a little insurance is a good option.
NFL 20% parlay profit boost
The BetRivers Sportsbook is offering this single-use profit boost for any three-leg NFL parlay.
The max bet is $25 with the max additional winnings set at $250. The profit boosts apply to winnings, which excludes the original bet amount.
Profit boosts are a great way to sweeten the pot on your bets, especially with parlays.
Keep in mind, parlay bets are riskier since every leg you choose has to hit for it to win.
Goat vs Goat boost
Since we started with Brady's return to Foxborough, let's end there.
The FanDuel Sportsbook is offering Brady to throw over 67.5 yards in the first quarter and is boosting it to -120.
As the NFL season settles in, the sportsbooks are still offering some good promos. If you take part in a little wagertainment, good luck.