America will soon be 247 years old, and some would say it doesn't look a day over 220.
Whatever you have planned for July 4th, it can be made to be even more entertaining if you're the sort who likes to enjoy a casino and all it has to offer.
Colorado casinos have planned many fun events and entertainment for patrons. Heck, the way this summer is going, just the air conditioning may be enough reason to visit one of the state's casino resorts.
Here's a list of the July 4th events planned for this weekend and coming Tuesday. Please note, scheduling may change. Consult the casino websites for details.
Bally's BlackHawk: Red, White & Blue Hot Seats, July 2-3
The Bally's Red, White, and Blue Hot Seats Promo rewards two winners every 30 minutes at Bally's Casino BlackHawk on July 2 and 3. Every winner will win $150 in Free Slot Play. To enter, all you have to do is lay your favorite slot machine with your Bally Rewards card.
Ute Mountain Casino, Fireworks Show, July 3
Booms, crackles, and ahhhhhhhh's are on the agenda for Monday evening when Ute Mountain Casino Colorado hosts a tremendous fireworks show.
Dubbed the "Largest Fireworks show in the Four Corners," the public is welcome, including families, for an evening of world-class fireworks to celebrate Independence Day.
But hours before the fireworks, loads of events will be on tap, including food vendors, a carnival, amusement rides, and a slew of tribute bands including Fenders II, and The King of Queens.
All ages are welcome for this family-fun day at Ute Mountain Casino. The fireworks show begins at dusk.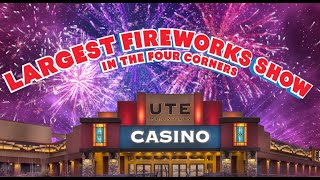 Ameristar Black Hawk: Broncin' Buck Giveaway, July 2
You look good. But how good would you look in a $100,000 2023 Ford Bronco? Let's just say, prettttty darn good.
Ameristar Black Hawk is giving away a new Ford Bronco with all the bells, and yes all the whistles. All you have to do to enter the contest is play at the Ameristar Casino Black Hawk: earn an entry through July 2 for every 10 tier points. On Saturday, you'll get bonus entries. You can fast-track your entries with Multiplier Days and Bonus Entry Days:
OWNERS CLUB: 500 Bonus Entries
ELITE: 400 Bonus Entries
PREFERRED • 300 Bonus Entries
ADVANTAGE • 200 Bonus Entries
Activate Mystery Multipliers and Bonus Entries at any PENN Play kiosk on promotional days.
Saratoga Casino Black Hawk: Yeti, Set, Win, July 2-4
Saratoga Casino Black Hawk is giving away $12,000 in cash & prizes. Every hour from 3 PM to 7 PM on Sunday-Tuesday, they will pick two earned entry winners. Winners will select a YETI Rambler Tumbler and get between $100-500 in Promo Play. At 8 PM, two earned entry winners of a YETI Tundra 45 cooler and $500 Cash will be selected.